Total Work #56: Penguins Carrying Briefcases...
Dear readers,
I began inquiring into the nature and history of Total Work in 2017. That inquiry is now coming to a natural end. Even penguins wearing hats and carrying briefcases have, since then, started to make some sense to me. Too much sense to me.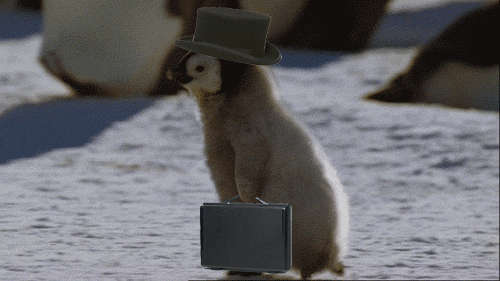 As I conclude, in next three or so months, the first draft of the book on Total Work (so subscribers can expect more pieces of writing coming their way in the coming months), I don't imagine that I'll be putting out a regular issue of the Total Work Newsletter for the foreseeable future.
Of course, now and again I'll let you know about upcoming courses on Total Work (the first course, which ended last month, was delightful, and the next one may be starting in late October), and now and again I may feel inspired to write a long form essay on work and such and, if I do, I'll post it here. Or—who knows?—there may be other reasons why, on an ad hoc basis, I publish something in this newsletter. The Daoist in me is not big on prognostications.
But know that "going forward" (as they say in business) the brunt of my writing will likely be on my personal website. Here are the lines of inquiry I'm currently following:
I am turning quite explicitly to discussing religious and spiritual practice (especially Rinzai Zen Buddhism).

In the coming months, I'll be examining more closely, in virtual public talks and perhaps in other genres as well, the meta-crisis we find ourselves in.

Lastly, I've been meaning to investigate how it happened that homo psychologicus, a profoundly mistaken psychological interpretation of the modern human, emerged in the twentieth century and what its emergence means for us, and now I'm beginning to do so. In fact, Jim Rutt has invited me to come onto The Jim Rutt Show to discuss this topic later this week.
You've been lovely, and I look forward to seeing you here occasionally and to speaking with you elsewhere—perhaps—more frequently.
Until then,
Andrew